Decorative Concrete Edging
Why should you choose Concrete Edging as your landscape edging?
Concrete Edging is a custom-fit, seamless concrete border for your landscaping, Walkways, Driveway, trees and flowerbeds. This continuous edging is a permanent and effective grass and weed barrier made of crack-resistant concrete, reinforced with wire cable to resist heaving and separation from freeze and thaw. Concrete Edging is available in nearly endless colors and stamp patterns to enhance your home.
Decorative Concrete Edging will compliment and enhance the beauty of your home.
Are you having trouble keeping the grass out of the garden or the mulch off the grass? Concrete Edging nearly eliminates all need for Trimming and keeps mulch and decorative rock in the bedding areas.
Concrete Edging won't rust like steel, decompose like wood, break like plastic, or move like brick. Traditional landscape borders such as Metal Edging, Plastic Edging, bricks, pavers, railroad ties, wood and wood timbers all fail. They break, pop out, rust and rot. They become unsightly and unsafe. Instead, get the permanent edge that lasts and. Spend more time in your yard, not endless time and money on your yard!
---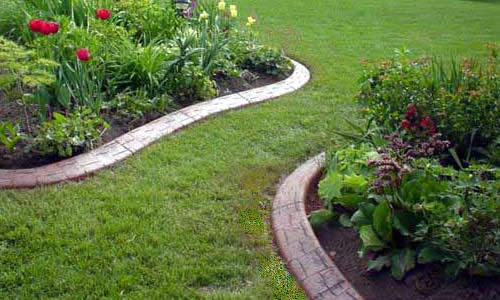 Design & install decorative concrete curbing. Our designers will:
➤ Listen to your ideas
➤ Create your landscape border edging layout and help you choose from an array of style selections including:
• Profiles
• Colors, & stamp patterns to compliment your home or business.
Our craftsmen skillfully install your decorative concrete edging contouring to hillsides, curving gracefully around your landscape, circling trees. Concrete edging is perfect for flat yards as well as terraced or hilly yards.
LOOK AT ALL THE GREAT REASONS for using curbing in your yard! Use our concrete edging to accent areas in your residential or commercial landscape. Enhance your pathways, driveways, and lawns; use concrete edging for car parking curbs, mower edges, and playground edging borders.
Decorative concrete edging is a beautiful and durable accent to your existing commercial or residential landscape. Concrete edging is a smart choice because it is:
➤ looks great
➤ functional
➤ reduces yard work
➤ reduces string trimming
➤ retains mulch and decorative rock
➤ increases property value
➤ environmentally friendly
➤ available for commercial and residential use, and complimentary to accent existing landscape
➤ does not disturb existing landscape reinforced with wire cable to resist heaving and separation from freeze and thaw installed within one to two days
Ready to increase your home's curb appeal?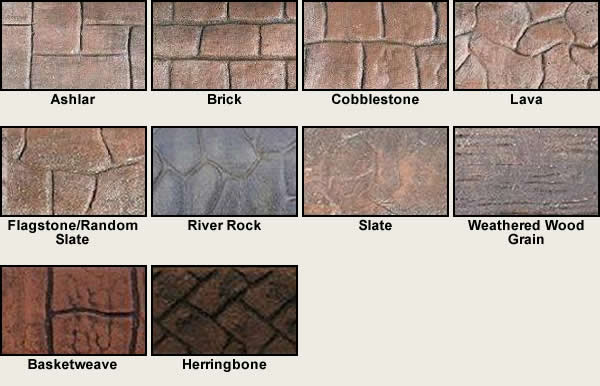 ---
Southeastern Wisconsin Service Area
Our service area covers all of Milwaukee and Waukesha County including the areas of Brookfield, Delafield, Elm Grove, Hartland, Menomonee Falls, Mukwonago, Muskego, New Berlin, Oconomowoc, Pewaukee, Sussex, Waukesha; Milwaukee County cities of Brown Deer, Cudahy, Fox Point, Franklin, Glendale, Greendale, Greenfield, Hales Corners, Milwaukee, Oak Creek, Shorewood, South Milwaukee, St. Francis, Wauwatosa, West Allis, Whitefish Bay.